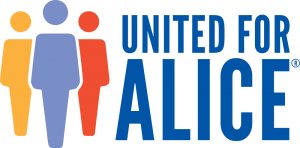 ALICE: Working Hard Yet Struggling to Survive
Who is ALICE?
ALICE, the United Way Acronym for Asset Limited, Income Constrained, Employed, refers to:
The growing number of individuals and families who work for low wages, lack benefits and paid time off, and often work two jobs - yet struggle to access basic health care, educational opportunities, and secure financial stability.

Workers who exist in a gap in the social safety network, which focuses on poverty-level support

Families living paycheck to paycheck, making difficult choices between paying bills and feeding their families.

ALICE is one emergency away from slipping into poverty.
Image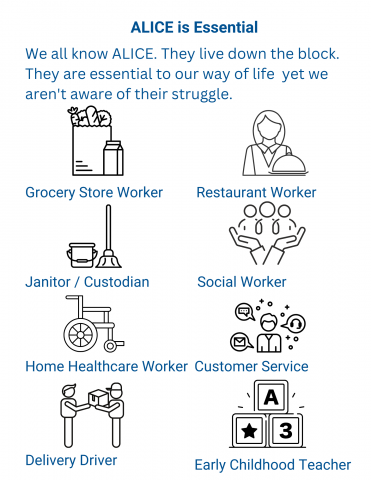 "Employment growth over the last 10 years in Illinois was largely driven by low-wage jobs that could not keep up with the increase in the cost of the basic household budget."
Household Survival Budget
The bare-minimum costs of basic necessities (housing, childcare, food, transportation, health care, and a basic smartphone plan) in Illinois, adjusted for different counties and household types.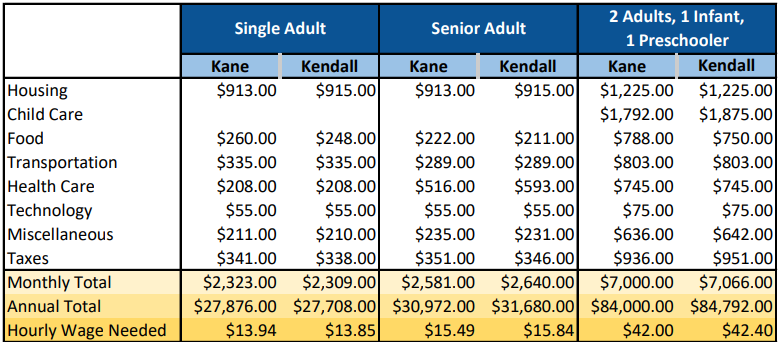 ALICE Threshold
The average income that a household needs to afford the basic necessities defined by the Household Survival Budget. Households Below the ALICE Threshold include both ALICE and poverty-level households.
How Many Households are Struggling?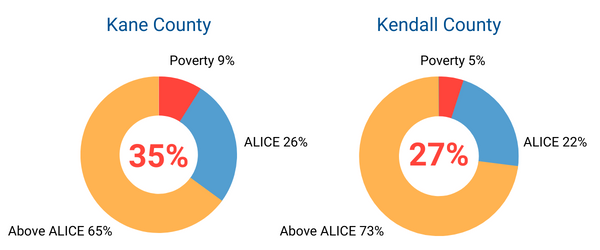 Hardship's Disproportionate Impact
Other demographic factors impact struggling families.
Kane County
41%

Single female-headed households

38%

Black households

47%

Latino households

35%

Senior Citizen households
Kendall County
41%

Single female-headed households

29%

Black households

29%

Latino households

36%

Senior Citizen households
"In Illinois, rising costs in urban areas - notably the Chicago metropolitan area - are largely driven by a decreasing supply of affordable rental units."